We have been away from home for two weeks and after chatting with our parents and some great emails and notes on Facebook, I will admit I am a little homesick. It is such a juxtaposition, here we are in one of the most beautiful places in the world, seeing amazing and breath taking sites, and we are missing our friends and family at home. But I guess this is why vacations have to end and why home really is where your heart is. It sounds cheesy, but it really is true. We are so thankful for our friends and families and treasure them being so close to us.
Anyway, we have been enjoying southland of the south island over the last couple days. We have been staying in Te Anau the last few days and have really enjoyed being in the same place for a few days.
We did attempt to explore Queenstown before we headed down to Te Anau. However, Josiah had different plans. He was not in the best of moods and was exercising a new found independence which included our very first feet-stomping, head-back, screaming-at-the-top-of-your-lungs temper tantrum. Well, at least we made a memory. It was a fun city with a very mountain feeling, like Vail or Tahoe.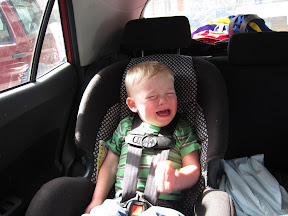 Te Anau is a much smaller town placed on the side of a lake with the same name. Across from the city and all around us are huge mountains. There is of course a great swing set and slide here.... Josiah did a great face plant on one of the slides... But with out blood or any bruises, just a face full of dirt.
We also drove to the Fjordlands National Park to the famous Milford Sound. The drive itself was beautiful. Through golden fields surrounded by incredibly tall snow capped mountains. Then through winding roads that followed crystal blue rivers. Near the end we went through a Homer Tunnel. This tunnel is famous for the hundreds of people who died building it in the 1930's as well as the feat of engineering it was for its day. It is a one way tunnel and it goes straight though a mountain. It was a very funny sensation because the tunnel goes downhill! Weird.
As we arrived to Milford Sound, our greeting committee was 1,000 sand flies. The Fjordland NP is known for the number of sandflies and they were out with abundance. After we donated blood, took a walk toward the point in the harbor. The beauty was amazing and I'm sure the pictures do not do it justice.
Today we continued our drive south with a little more flexibility in our schedule. We were able to enjoy the best playground yet in NZ and enjoy a little beach time in Riverton. We will enjoy the Catlin's coast for the next couple days.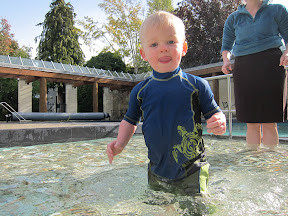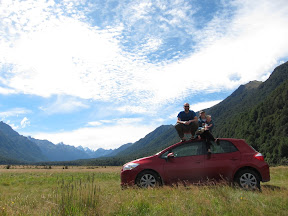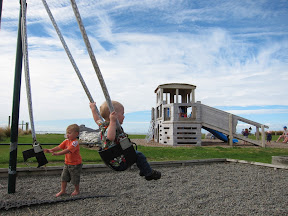 The Olsen's <><