Last night after we posted our blog, we went to the MOST AMAZING PARK EVER! The city of Invercargill is not much to speak about, but my-oh-my their Queen's Park totally redeems it. It puts Point Defianceto shame. The park was established in the 1800's and it is beautiful. Plus, the slides/swing area was awesome! AND Josiah was able to chase lots of fat ducks who weren't very fast, so he could get pretty close. It was a great time and we are so glad we ventured out to explore the park.
Thursday, we continued our trip south and entered the Catlins region. In New Zealand they call the "middle of nowhere" the "whop-whops" and let me tell you we are in the whop-whops of the whop-whops. It is a mix of rolling seaside hills filled with grazing sheep and cows and dense rainforest roads.
You may be wondering about this post's title. The roads here were getting very curvy and as the passenger in the Olsen car your primary responsibility is to entertain and feed the cute little man in the back seat... Josiah. And he doesn't have much of an attention span so he is ready for a new activity every 15 minutes. He also has the metabolism of a knat so he is hungry every other 15 minutes. Needless to say, I spend much of my time facing the back, digging through our things to find his choo-choo book or little person that he dropped or handing him crackers with hummus (his new fav snack). Don't get me wrong, most of the time I would be totally fine with this, but when you have Mario Andretti behind the wheel, on the opposite side of the road, your tummy can get a bit unsettled. Today when I kindly asked Peter to try to not hug the corners so much, he told me, (in the most loving way) "Babe, I did not invent these roads, I just mastered them."
Anyway, we enjoyed the fresh air and let my stomach settle down by walking out to the most southern point in NZ, Slope Point. We had to walk though a sheep pasture to get there. It was a mine field of sheep poop, but I'm happy to report I am NOT afraid of sheep like I am cows. Josiah yelled hi to them the whole time and even tried to run after one to feed it some grass. The view was splendid and if we never go to Antarctica, we have officially been as far south in the world as we ever will be. A very cool fact to think about.
We also stopped at the Cathedral Caves. We had timed it just right when the tide was at it's lowest, so we not only got to walk through the two caves known as the cathedral, we also walked around one point and into another and had the privilege to see blue penguins in the wild with their fairly young chicks! It was incredible! However, we did not stay long to look at them because the floor and walls of the cave was crawling with these jumping bugs, millions of them. Peter described it best that it felt like the scene from Indiana Jones when he has to crawl through rats. It makes my skin crawl again just thinking about it.
Tonight we are staying in a tiny holiday park in McLean Falls (not on a map), and after Fox Glacier we weren't sure our room could get any smaller, but this one is tiny. The gal who checked us in called the cabin like Mary Poppins bag... Much more fits in it than you think. But, it is cozy and clean, so we are happy.
Tomorrow we will finish exploring the Catlins area and then head north (for the first time in 2.5 weeks) toward Dunedin.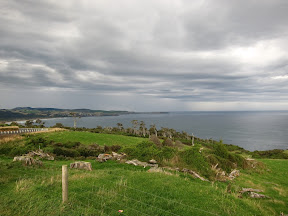 The Olsen's <><