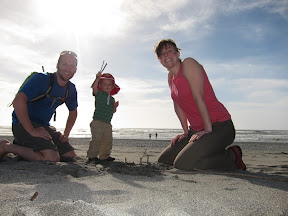 We woke up to another sunny day. Our plan was to head west to the coast and then take our time driving south for the next few days to explore the west side. With such amazing weather we didn't make it far before josiah was asking for a swing. We stopped in a town that we can't quite remember the name, much less spell it.... But it started with an M with quite a few A's and U's in it. It is funny to be in a place where they speak English but we still can't pronounce most cities. Anyway, we did find a playground and met a great family from outside Christchurch. After having lunch with them, they were kind enough to offer us a place to stay when we fly out of Chch in a couple weeks. What a blessing!
Our next stop was the Pancake Rocks and blowhole park (once again I can not remember or spell the name of the town- started with a P though). There was a 20 minute walk to see all the sights and even without a nap Josiah ran the entire way... He did do a good job of resting when he needed it.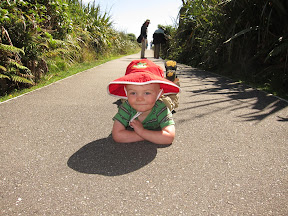 Tonight, we are staying in the town of Hokitika (the only reason I can remember this is because i have been trying to say it all day... And still can't). We enjoyed walking through town and collecting rocks from the beach, Josiah filled up all of his pockets and gave each one a kiss. He chased all the birds off the beach umpteen times, screaming at them to pet them. He even tried to feed them some of his hamburger... Funny kid.
Today was another great day filled with lots of fun and family memories. But all good things must come to an end and you can seen this happen in our last picture as Josiah is done with the day (a day without a nap).
Tomorrow we have a short drive to Franz Joseph and Fox glaciers. The weather is not expected to be good, so we will see what the day brings.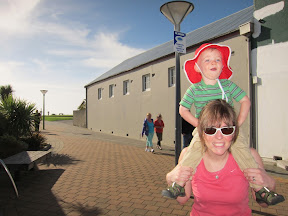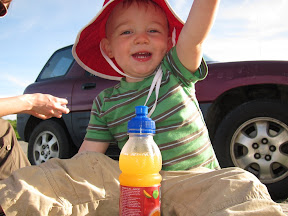 The Olsen's <><