After we left our glorious room in Oamaru we drove downtown (not much in the town itself) to a little train station run by volunteers who LOVE old trains. We then boarded a circa 1920's train with a diesel engine attached to the front (also vintage). Josiah was excited and a little weirded out by the Thomas the Train stamp they put on his hand. But as soon as the engineer shouted all aboard and the whistle blew, he was all for a train ride. We rode through the waterfront district to the end of the line where we were to get out for about 10 minutes of exploring the 1890's workshops they house there. Inside one of the buildings the opened up a little wooden box to show us two little blue penguin chicks. It was very apparent that in all of these three workshops the penguins made their home at night... That much we could smell. Needless to say Josiah was thrilled and he kept going back to look at them for the whole time we were there. LOTR fan note: one of these workshops actually carved the wooden tools used in the movies. Pretty cool.
We then drove up through the inland scenic highway to Greendale, a tiny town outside Christchurch. You might ask why Greendale? Well, we met a family in a tiny town on the west coast while we were playing at park a few weeks back and as we were leaving they offered for us a place to stay should we need it. And we did indeed need it. It felt funny to be driving to a tiny town (our driving directions included 3km of dirt road) to stay two nights with people we had only met for an hour in a park a couple weeks ago. But, at the same time it was very peaceable and we were excited to see how the 'kiwis' did life on a daily basis. When we arrived we were warmly greeted by Nick, Karen, their three great children, their loving dog Rosa and a leg of lamb cooking on the bar-b-que. We enjoyed two days of relaxing and eating fantastic meals right out of their garden. After all the amazing meals we enjoyed we are even more motivated to start our own garden. We also got to experience an aftershock from the recent earthquake... Quite the hosts to arrange for that (smile).
As our time winded down with the Shepards we stayed up late talking about differences in our cultures and trying to understand the complexities of rugby and cricket. I think we can honestly say we have true kiwi friends- Josiah especially, who took a liking to their youngest, Beatrix, who was 19 months. They kept trying to arrange a dowry of a couple million... We are still in negotiations. Our visit with them was a fantastic finish to our time in NZ and we sincerely hope that someday we can host them our home.
We then flew from Christchurch to Auckland and after a nap, we rode the bus down to the city central. We enjoyed dinner underneath the Sky Tower. After dinner we rode up to the top to watch the city light up as the sun set. It was very fitting to end our stay in NZ with the sun setting over their largest city. Even though it was beautiful, we will remember NZ not for the city but for the amazing landscapes and vast undeveloped beauty.
Onto Australia for our vacation from our vacation.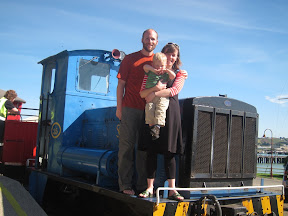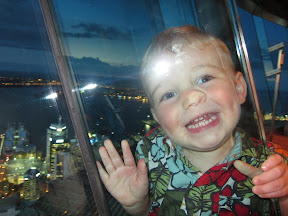 The Olsen's <><