Friday- We woke up to grey skies and drizzles as expected. We ate a great breakfast from the hostel kitchen of eggs and pancakes. I should tell you the pancake mix was from a plastic milk like bottle. It came from the baking aisle and all you had to do was add water to the powder, shake it really well and then pour the batter into the pan, so yummy and easy. Plus, they do not refrigerate their eggs, they are also found in the baking aisle- good to know for when we go camping next time.
We then drove from Hokitika to Hokitika Gorge and swinging bridge. It was a quick hike along a forest trail and Josiah was excited to hear all the birds and touch all the ferns. The landscape looks very much like the Washington coast, including the vegetation. As we arrived to the swinging bridge, we quickly realized that Josiah did not inherit Molly's fear of heights as he was jumping on the bridge. It was very safe, but still made me so nervous. It makes me realize that the older your kids get, the more you need to pray for their safety as they begin to explore the world more and more independently. Yikes! Anyway, below the bridge, there was an amazingly beautiful grey-blue glacial river. It was a bit of a bummer the sun wasn't out because the color would have been even more vibrant.
After the bridge we drove to Franz Joseph Glacier. The most amazing part of this glacier is that it moves one meter a day and it is one of the only places in the world where a glacier flows down into tropical rainforest. The size was amazing and to realize how much it moves each day was mind boggling. For Josiah this was just another rock throwing and stick collecting adventure.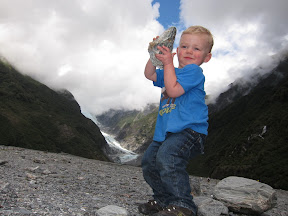 We were planning on driving to the next glacier, Fox Glacier and camping on the beach, but the weather did not cooperate and by late afternoon, dark rain clouds were looming. We found a place to stay, and we will admit the deciding factor was the great play area they had there, including swings and a slide. Peter did get a chance to venture out to lake Matheson which is famous for its amazing reflections, however, the clouds were too thick. He also enjoyed the sunset with all his closest sand flea friends on the west coast. Peter and I are seriously feeling the itchiness of the sand flies on the west coast of the southern island... our ankles look like they have a bad case of the chicken pox. We had been warned they were bad down here, but they are eating us alive!
Saturday-Again we woke to pouring down rain, but with the weather man's promise of sun in the later afternoon, we drove onto Wanaka. On our way there we encountered the most amazing landscapes of Haast Pass. The colors and grandiose height of the mountains was awesome! Pictures do not do it justice and we wish we could have stopped at every viewpoint and waterfall, but we were hoping to make it to Wanaka in time to hike up to a mountain hut for the night. Thankfully, we did make it to get a place in the hut. The gal who gave us the permit told us the drive would take an hour and the hike only two. We figured she was under estimating our drive time because it was only 52K... Well, she was right, after 6 fording of rivers and a dirt road for over half of the ride, we arrived in just about and hour. The drive itself was amazing up the Mount Aspiring National Park valley through sheep, cow and deer fields (yes, they do farm deer here- odd too see). After quickly packing our things, we were off. What was only supposed to be 2 hours up a flat valley, took us 2.5 hours and felt much longer than expected. But, half of all experiences in life is the actually getting-there-part right? We had many river crossings and walked through multiple herds of cattle, which come to find out is not my favorite. I do like cows when they are behind a fence, but when in the middle of a group of 8, I am a bit unnerved. Josiah loved the hike and he sang the entire way, either ABC's or Drummer Boy (which he calls PUM). He also greeted every living thing we passed (human or cow) with a sweet "Hi!" We were so proud of his great little attitude.
After arriving to the hut, which was supposed to only have 16 other people in it, but had probably 30, we settled in. Josiah proceeded to blowout his PJ's that we had planned on him sleeping in. It was disgusting to say the least and I ended up getting some on my fleece and so smelled it the rest of the night as well. With all of the people there, bunk space was hard to come by so we ended up sleeping on some beds out in the main room. It was different sleeping all together and we realized how much Josiah moves in his sleep. We were woken up about 6:30 by hikers getting an early start.
One advantage to waking up so early was that we were able to hike out early and enjoy watching the sun rise over the mountains and the clouds burn off of the newly snow dusted hills. Peter was also able to capture the early morning light and fog with some photos which was a treat. Josiah was able to catch up on some missed sleep on the hike out as well. It was very brisk and cool in the morning and with one less layer due to the blow-out Josiah was pretty chilly. Still, he impressed us with his happy-go-lucky nature embracing all around him and encouraging us as we hiked. We are so blessed!
For the afternoon we drove to Queenstown and laid low. Peter and Josiah are both feeling a bit under the weather and we are all wiped out from our little sleep over in the woods. It was a great adventure and we are glad we had the opportunity to see the amazing beauty of Mount Aspiring, what some call the Eiger of New Zealand. We look forward to exploring more of Queenstown tomorrow and then heading south to Te Anu for a few nights.
The Olsen's <><